(Last Updated On: September 7, 2018)
Ready to Get Rid of Your Salvage Car in Brisbane?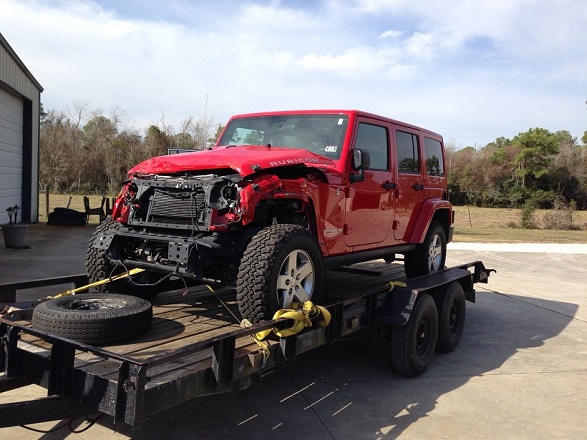 Salvage vehicles aren't quite as easy to get rid of as you might think. Unwanted vehicle owners have different options in selling their salvage car, truck, SUV, 4×4, etc.
Some sellers opt to sell their salvage vehicle to a third party, which is an option, but one that you must be careful. Because the vehicle is a salvage car, there may be TMR requirements that must be followed, mandated by the state. A written notice to the potential buyer or lien holder may be required stating that the car, truck, 4×4, SUV, etc. has been classified as a salvaged vehicle.
If you do not disclose that the vehicle is a salvaged titled vehicle to the buyer, you are setting yourself up for fines and penalties as you are breaking the law. All guidelines set by the TMR  must be taken into account, or you are liable under the law. That in itself is enough to deter salvaged vehicle owners away from selling the vehicle to a third party; and, so they move on to other options.
A car wrecking yard (Salvage Vehicle Brisbane) is another option in selling your salvaged car. Here too, you must be careful as many wrecking yards only accept specific makes and models of vehicles and not all ages or conditions. So, check to be sure that they accept your make and model before you bring it in to try to get a little cash. Also, be sure that there are no specific requirements for draining the fluid of the vehicle or removing or flattening the tyres.
Wrecking Car for Cash in Brisbane QLD
Sound like a lot of work? It isn't easy- but who said selling a salvaged vehicle would be easy? There is one more option. Having cash for cars or cash for scrap car removal company buy your salvaged car for cash. Brisbane car wreckers buy salvaged cars. We offer full car removal services to all suburbs of Brisbane. That means cash for your salvage car and a free removal.
Is the process of selling your salvaged vehicle sounding like a little less work? Our car removal services are performed by expert car removers who bring the cash with them at the time we perform your free salvage car removal. We also buy salvage cars, trucks, SUVs, 4x4s, vans, commercial vehicles, etc. of any make and model and age and condition.
Car buying and selling and auto wrecking is our business and a business that we do well. Aside from cash, the biggest advantage when you call Salvage Vehicle Brisbane for your free salvage car removal is we do all the work if the car is to be disposed of. You also don't have the concern of contaminating Mother Earth with its disposal.
Our car disposals are always eco-friendly recycling, reusing and reselling the metals and parts of the vehicle. We aren't the only car removal company in Brisbane, there are plenty of us that offer cash for cars (although, they might not offer the same high quality and the cash on the spot that Salvage Vehicle Brisbane does!
Salvage Vehicle Brisbane in 3 Simple Steps

Selling your car to ECOWRECKERS is fast and easy and involves just three simple steps which include the following-:
1. Get a free quote – you start by calling us at 07 3393 9929 for a free quote on your salvage car. Unlike other auto dismantlers and scrap metal dealers who might value your car at zero so that they pay you peanuts for it, we do an actual car valuation of the exact worth of the vehicle and that will be our basis for the cash offer. You can also get our free quotes instantly by filling in and submitting the auto quote form on our website.
2. Consider the offer – after we make the offer, you will have to consider it and either accept or reject it. In most cases, people do accept our offers because they are based on the actual value of your car. Remember that the offer comes with no obligations on your side and you are free to reject or accept it at will.
3. Get your cash – in the event that you accept the offer, we will arrange a convenient date and time to come for the removal of your salvage car. On a material day, we will show up with the tow truck and pay you in full the agreed sum of money. Only then we will load your salvage vehicle onto our tow trucks and tow it away.
Our Salvage Vehicle Brisbane team offers free car removals that are performed 24 hours a day. Just give us a call, and we will give you a cash offer on your unwanted car removal- running or not, you'll get a free car removal and instant cash.
We work to our customers convenience to tow their unwanted car at no additional cost to them.  Better yet if your unwanted car is drivable then you bring it to one of our drop off location near you for additional cash for your scrap car.